Premium Media
Player RS350
Classy and Posh Design! High Quality A/V!

Specialized service as Internet Radio,
Podcast and YouTube(No ads)
Modernized Simplification
Spatial Indoor
Arrangement
with Comfy Shape
Decorate your space with Lifestyle Media Player(RS350)

Optimized High Resolution Sound, Video
and simplified design make you re-feel of
your lifestyle enjoyment.

Touch Screen
Embedded
High Resolution and Wide View Multi Touch Panel
give you intuitive and convenient UI
Top Plate Touch Button
Easy controlled Power and Volume.
Screen off function for deep sleep
MASTERING QUALITY SOUND
Delivering
Original Sound as it is
High Performance Amp and 3way type of Speaker unit
gives you full sound of full band without distortion.
ROSE's Patent
All the HiFi Sound Expertise has been accumulated by
ROSE's patented technology as High Resolution Speaker,
High Precise Amp. design technique for Dual Passive
Radiator Duct Module having its great audio performance.
HiFi High Resolution Speaker
20mm High Resolution Tweeter for Crystal Clear Sound
and 63mm High Performance Mid-Range for packed
sound with own developed Dual Passive Radiator Woofer
engine finally give well balanced Reference Sound.
High Resolution and Definition Amp.
Applied High Speed Gate Driver Technique and optimized
combined feedback design into the High Definition Amp.
provides Pure Sound with stable sound quality and high
separation, noiseless without distortion
EASY CONNECT
Various Source
and Network Streaming
A/V files in Micro SD, USB playback not only locall
but also Smartphone, Tablet, PC, NAS, DLNA, Airplay
Bluetooth via wireless Network are generated.



DLNA
AV files in mobile phone, PC and NAS are generated in the same AP.

Air Play
High Quality Sound via Airplay.

Bluetooth 4.1
Compatible with BT devices

USB/Micro SD
Media Playback
Any sound source, high definition video in USB or Micro SD are conveniently generated.


LIFE STYLE
Smart and Convenient
Supporting Music, Video, Internet Radio, ROSE Podcast,
and digital amenities as clock, alarm, temp. wind speed, fine dust, weather info. etc.
Music
Audio files Playback in the local drive and Playlist function gives you classified.

TIDAL
TIDAL's high-resolution sound source
can be played easily.


High Quality
Definition Playback
supported MKV, MP4 for soundtrack, clip, movie etc.

Internet Radio
expect for the Internet Radio Channels by ROSE, the function of editing, registering channels is provided.

Podcast
Own developed ROSE Podcast has you enjoy media entertainment as classified music genre, per country etc.

Digital Amenities
RS350 also provides Digital Amenities as clock. Alarm. Position. Temp. fine dust, weather info. etc.
Remote App.
ROSE Connect
RS350 is controlled by mobile phone
via ROSE Connect (App) for friendly usage.
*Music. Video. Raido. ROSE Tube. ROSE Podcast. Power
Volume and Remocon function.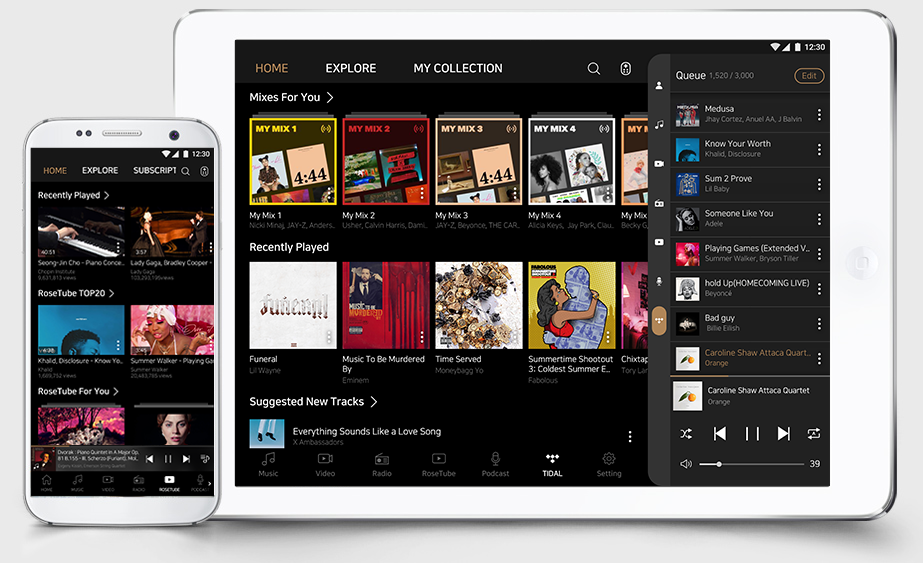 OS

Customize Android Rose OS
DESIGN
SIZE

364 x 123 x 123 mm
Weight

1.5 kg
Touch button

Volume, Mute, Power
Display

Wide view 5" multi touch screen
Power
Maximum output

20W
Speaker Configuration

Tweeter (8ohm ±15%) - 10W x 2, 20mm Dom, Sensitivity(5K, 6K, 8K, 10K) 93dB ± 3dB
MidRange (8ohm ±15%) - 10W x 2, 66mm Dom
Woofer (Dual Passive Radiator)
Wireless
Wi-Fi

WiFi (802.11 a/b/g/n)
Bluetooth

Bluetooth 4.1 (A2DP SINK, AVRCP)
Straming

Airplay / DLNA Service
Ear Phone

Headphone Out : 3.5mm Jack
Media connection

USB 2.0 A type x 1
Micro USB B Type x 1 (Only for service)
MicroSD x 1
Wupported codec
Audio

MPEG 1 Layer 1/2/3, WMA, flac, ape, WAV
Headphone Driver
I2S INPUT CLASS-D 40W AUDIO AMP
Video

MPEG-1, MPEG-2, MPEG-4,H.263, H.264, VC-1
Power
Input power/dt>

AC100-240V, 50/60Hz
Output power

DC 12V, 2A
Standby power

0.5W, Active standby 5~ 20W
Update

SW update via internet, manual update via usb
Remote control
Remote controller

IR Remote controller
Remote App

ROSE Connect (Android, iOS)
Accessory

Power cord x 1, AC Adapter x 1, Manual x 1, IR Remote controller x 1, Battery(AAA ) x 2
"Rose" even a bunch of roses but the flower that keeps the value of
existence and beauty. ROSE™ is the combined HiFi Media Player Brand
that has been created with the sophisticated technologies between
audiophiles in their 30 years career and seasoned acoustic engineer over the years.